Double Door Wafer Check Valve
FIELD OF APPLI CATION
Chemical
Beverage
Brewing/Wine Making
Pharmaceutical

Food Processing
Water & Wastewater Treatment
Petroleum Refining & Oilfield
Transportation
Ultrapure Water
Marine
Pulp & Paper
Mining
Power/FGD
Nuclear Power
Irrigation
Textile
Desalination
DESIGN FEATURES
1. Minimizes piping support with the compact wafer style body;
2. To meet special applications and service conditions, RCV010 series can be offered with many different options, such as silicone free cleaning, oxygen cleaning, vertical service, left-hand operation, levers, weights and cushions;
3. For media containing fibrous matter Or caustics, SISCO offers an external spring which eliminates the spring from the f1ow path. This will prohibit the possibility of fiber wrapping around the spring or chemical attack of the spring;
4. Maintenance is minimal with the field replaceable 0 ring seat available in all styles and sized;
5. Low torque design,small fluid resistance, extremely high resis tance to water hammer pressure;
6. Long lifetime and reliable performance.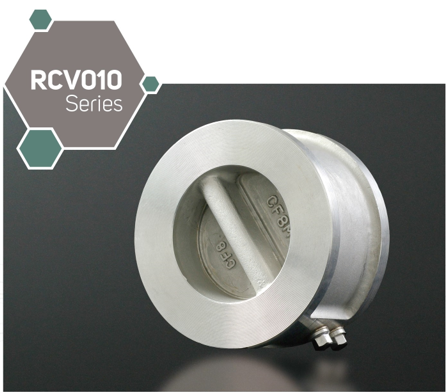 Body
A wafer type of short face-to-face design, body, bolts and all other parts are stain less steel material. The design possesses small volume, high strength and excel­ lent anti corrosive capacity.

Disc
The casting stainless steal or Aluminum Bronze double semicircular disc possesses the features of high strength, excellent corrosion resistance and good resistance to deformation against the water hammer pressure in long-term use.
Spring
According to the actual need, the stain­ less steel spring can be flexible adjusted. The Accurate calculation and precise design can ensure quick and non-blocked on/off of the disc.
Seat
Integrate vulcanizing EP DM sea t pre­ vents movement of the seat when open and close the disc and ensures the sealing of the valve.