High Performance Concentric Resilient Seated Butterfly Valve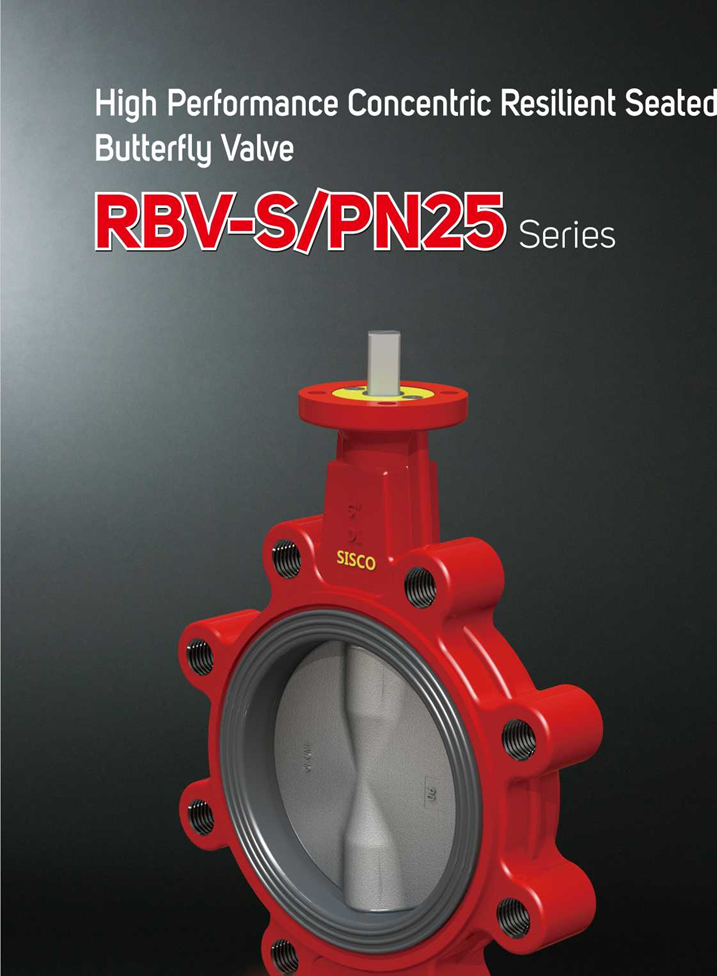 FIELD OF APPLICATION

Size
DN50-DN300
Working Pressure
2.5Mpa, ANSI Class300
End connection
BS EN 1092-2 PN25, DIN2634 PN25, ASME/ANSI B16.5 CLASS300
Face to face
IS05752-20,BSEN558
RBV-S/PN25 series are the self-developed and high preformed concentric resilient seated butterfly valve that perform reliably under working pressure of 25 bar(PN25).
The design breaks through the standard pres­sure limitation (max PN16) for concentric resil­ient seated butterfly valve to replace traditional eccentric PN25 butterfly valve. Along with con­centric design features such as dry shaft and body, low torque, low weight, bi-directional installation etc., working pressure up to PN25 extends valve application scope to a whole new level.
Being tested 1.5 times working pressure for sealing and 5 times working pressure for body shell strength, this series provides reliable seal­ing performance and service life under pressure of 25 bar.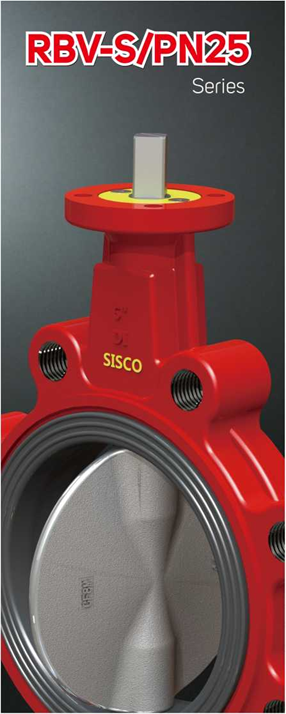 DESIGN FEATURES
RBV-S/PN25-W SERIES
Wafer type concentric soft backup seat designing, size from 2"-12〃(DN50-DN300)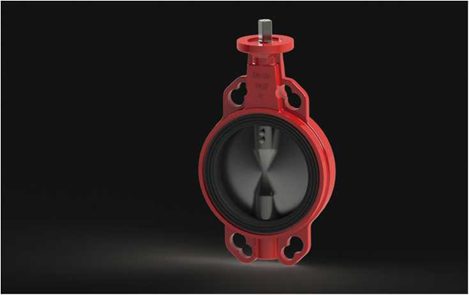 Lug type concentric soft backup seat designing, size from 2〃-12〃(DN50-DN300)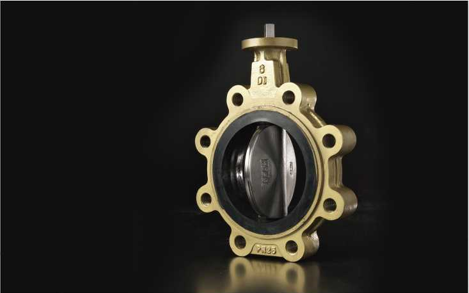 Change different material of seat, RBV-S/PN25 adapt to wide range of temperature.

Different Disc/Seat martial combination in this series are available to be chosen according to dif­ferent media and working conditions, experience senior SISCO engineers are here to serve you providing professional advices to meet your particular requirements
Parts Name
Material
Body

Ductile Iron

WCB,CF8/CF8M


Surface Coating
Epoxy Coating
Disc

CF8/CF8M

Super Duplex Stainless Steel

Aluminum Bronze

Shaft

431 Stainless Steel

Super Duplex Stainless Steel

Monel Metal

Seat

EPDM

Buna-N(NBR)

Viton

Polyurethane(PU)



GENERAL FEATURES
International Compatibility / Bi-directional Sealing

Full Rubber Lining / Dry Shaft Design
Smaller Operation Torque
Easy Installation & Maintenance
Full Bore Feature
International Compatibility
Top Flange: RBV-S/PN25 series top flanges mounting meets IS05211 standard for direct mounting of handles, gear operators, pneumatic and electric actuators, and no brackets are required, which allows of simple installation in the field, minimizes possible misalignment and reduces overall height Side Flange: Connection compatibility design allows this series butterfly valve to be installed between flanges of BS EN 1092-2 PN25, DIN 2634 PN25, ASME/ANSI B16.5 CLASS300 simultaneously.
Bi-directional Sealing
Concentric resilient seated design features the series bi-directional bubble tight shut off with zero leakage, bi-directional sealing breaks the directional limitation during installation, making it much more flexible and more achieving friendly working, zero leakage perfects the sealing performance especially in gas and air application.
Full Rubber Lining
Full Rubber lined valve interior completely isolating the line media from the body eliminating un­necessary contacts between media and body, body material therefore does not have to be corro­sion resistance materials, which usually being expensive, this feature lowers the overall cost.
Dry Shaft Design
Alternative to high corrosion resistance shaft materials, this valve is equipped with the dry shaft provision, in that case the shaft with standard material is protected from the medium by applying rubber lining, and this lining protects the standard shaft material against corrosive environments.
Smaller Operating Torque
Disc of precise calculation, interference fit of seat and polishing disc sealing surface greatly reduces the operating torque, thus closing torque which makes operation easier as well as saving cost in actuator selection.

Easy Installation & Maintenance
Light weight and volume lowering cost and achieving easy installation
Full Bore Feature
Full bore feature results in extremely higher Cv value and minimized the flow loss.
Thickened and high intensity disc makes RBV-S/PN25 series reliable under PN25 working pressure and while blocking the medium. Streamline and dumbbell-shaped disc can maximize the CV and mini­mize the resistance with increasing the intensity.

The sealing edges are spherically ma­chined, and then hand polished to pro­vide minimum torque and longer seat life. SISCO also provide mirror polished disc to lower flow and operation torque and increase Cv value.
Seat
SISCO's vulca­nized tongue and groove seat with spherical sealing design is the key to reliable seal under PN25 working pres­sure. As our core and patent seat de­signing, this nontraditional spherical seat design makes RBV-S/PN25 series of high performance centerline butter­fly valves perform excellent under PN25.
There is a sealing zone in the middle of the seat. The disc can seal well as long as within the seal zone which means that being vertical to seat is not the only way of seal.
Double water line design at each edge can form a vacuum space to absorb and make seal between butterfly valve and pipes effective while valve is mounted.
Both wafer and lug type of RBV-S/PN25 serie have passed the seal test of 38 Bar(1.5 times of working pressure).
The disc 〇.D. clearance is designed to work with all standard piping.
Blow-out Proof
Reliable blow-out proof provides full retention of the shaft in the unlikely event of internal shaft failure. According to connection difference between shaft and disc there are two kind of blow-out proof de­signing as below:


Non-pin connection
blow-out proof Pin connection
blow-out proof

Shaft
One unique shaft without any groove on it so that minimized hysteresis and produces maximum strength engagements.
Single shaft pin-less disc connection and single shaft pin disc connection are both available to be chosen according to customers' preference.
Shaft Bushing

Using bronze alloy bushing to keep self-lubricating nature, absorbs actuator side thrust in the meantime, provides additional support for the shaft.
Body
We offer WAFER and LUG type so that could be mounted in the middle or the end of the pipe. One-piece structure casted by high standard ductile iron material, both wafer and lug type of RBV-S/PN25 series have passed the shell test of 125 Bar(5 times of working pressure).